On October 3, I talked about and led a discussion of Haiti Noir and Haitian literature for Waterstones Book Club at the Muntpunt Library's Literair Salon in Brussels.
I've been invited to participate in the inaugural Snug Harbor reading series in Brussels. Date TBA.
I was interviewed for a short film about Under the Volcano, produced by the Mexican 'Instituto de Radio y Televisión Morelense.'
In May 2018, I attended the Southern France Writing Intensive in Fiction and Creative Nonfiction with Kate Moses and Jennifer Steil.
My novel excerpt was published in Under the Volcano: The Best Writing of Our first 15 Years. Contributors include Russell Banks, Sandra Cisneros, Grace Paley, and Magda Bogin.
My poem "Becoming Belgium" was published on the website On Being, hosted by Krista Tippett.
The artist Leslie Nichols created a portrait of me using text from Zora Neale Hurston's "Their eyes were watching God."
The Society for Children's Book Writers & Illustrators invited me to their 2015 writer's retreat in Belgium.
I discussed my poetry and invisible disability in interviews with Public Radio and ArtsWork Indiana.
The Furious Flower Poetry Center in Harrisonburg, Virginia invited me to give a poetry reading in 2014, with support from three departments at James Madison University—the College of Arts and Letters, the Department of English, and the School of Art, Design and Art History—and in concert with "A Book for the 'Burg".
As part of this event, students of the "Performance for the Lens" class taught by Corinne Diop of JMU's School of Art, Art History, and Design created a group exhibition—Beyond Mountains—of photographs inspired by my poems (see also here).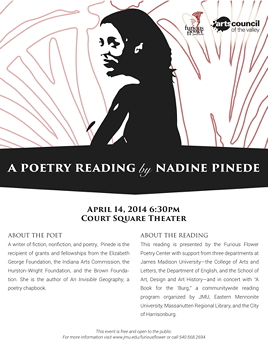 I was invited to moderate a panel on Writing Trauma, Pain, and Loss at the 2014 Associated Writing Programs annual conference. The panel featured Kim Stafford, Ana Maria Spagna, Anna Bálint, and Danielle Georges.
My poem Provenance was published in The Heart of All That Is: Reflections on Home.
I contributed to the 2013 Annual Conference & Bookfair of the AWP and participated in the session: "International Women's Day Reading from Becoming: What Makes a Woman."
Haiti Noir, edited by Edwidge Danticat, has been translated into French by Asphalte éditions.
I gave a poetry reading and mini-workshop at the American Women's Club (AWC) Malmö, Sweden, in 2012.
I gave my Master of Fine Arts graduation reading at the Northwest Institute of Literary Arts in August 2012 (Whidbey Island, Washington, US).
The Brown Foundation awarded me a 2012 Fellowship at the Dora Maar House in the South of France. The Fellowship provides residencies of one to three months for mid-career professionals in the arts and humanities to concentrate on their fields of expertise. I was in France for two months and worked on my novel, which was accepted as my Master of Fine Arts thesis for the Whidbey Writers Workshop/Northwest Institute of Literary Arts.
I read selected poems from An Invisible Geography on The Poets Weave, an NPR-WFIU program. This was my second appearance on the program.
My poetry chapbook was featured on ArtsWork Indiana and in the City of Bloomington's 2012 Entertainment and Arts District (BEAD) newsletter.